You could make the argument that those of us working outside and with animals have greater connections with those animals and the land than those who simply play outside (i.e., outdoor recreationalists). We horse owners, therefore, might well be happy consumers of clothing made by a company prioritizing good treatment of land and animals (an idea that the industry sometimes calls 'ethical clothing'). We might also welcome a fresh alternative to the same-ol', same-ol' from century-old clothing companies like Dickies, Wrangler, and Carhartt.
All of which is one way of saying:
Thank You, Patagonia!
and
Move over, Carhartt!
Earlier this month, Patagonia unveiled its WorkWear line. The clothing is made with a blend of Iron Forge hemp, organic cotton, and recycled polyester. In tests, the fabric was 25 percent tougher than the cotton duck canvas in Carhartt jackets. Yet it's deceivingly soft and doesn't require that "Forgive me while I walk around in a cardboard box" break-in period.
WorkWear, like all Patagonia products, comes with researchable background information on how its production impacted the planet and the people who made it. Some say the company's Footprint Chronicles are leading the entire industry to be more sustainable, accountable, and transparent.
We visited with Patagonia folks earlier this year to learn about the new line, its origins, and what the California company – more often associated with rock climbers and surfers – has planned for outfitting our community:
"Iron Forge" is a reference to the smithing done by Patagonia founder Yvon Chouinard and his rock climbing comrades back when his fledgling company was literally forging climbing equipment in a tin shed (now called the "Tin Shed") in Ventura, California.
Designing and crafting work clothes isn't a big leap from a standards or cultural perspective at Patagonia, said business unit director Ed Auman, "this is not 'work inspired. It's been in our DNA."
Thankfully, the women's WorkWear line is not simply the men's version recut with wider hips and added pink buttons.
The Iron Forge Hemp Canvas Barn Coat is tough, warm, and more feminine than typical barn coats. It comes in Coriander Brown, a warm, yellow-brown with cream stitching and is lined with Thermogreen insulation and silky, deep orange polyester. There are five pockets, including an inside, zipped chest pocket for valuables.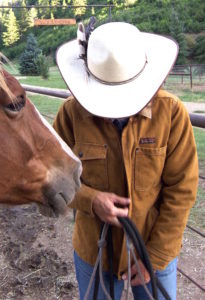 My favorite features:
Oversized pull on the zipper makes it easy to zip up and down with cold fingers and/or gloves
Side cinch straps with buckles give it a feminine silhouette and are useful for custom fitting
Slick lining makes layering easy
Hemp blend sheds hay, shavings, etc.
Hem length is not too short that drafts come up your backside, not too long to for riding, mucking stalls, shoveling, etc. Falls at the hip.
Two distinct snap closures at the sleeve mean you can pull sleeves over or off your wrist depending on your needs (using a hand tool or covering your wrists for warmth).
Coming to the Best Horse Practices Summit? You'll see our presenters and ambassadors outfitted with these WorkWear items:
Women's Iron Forge Hemp Barn Coats
Men's and Women's Farrier Shirts
Read more about Patagonia's outfitting the Best Horse Practices Summit outfitting here.