The recent opinion piece in High Country News sparked a viral amount of dialogue on that magazine's site and on other platforms that picked up the piece, like Adventure Journal. It begged a follow-up on improving understanding for all who use multi-use trails.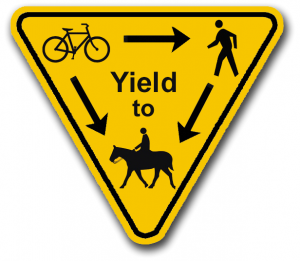 Believe it or not, bikers and hikers must yield to horse riders on many trails. This rule isn't some snooty, "we were here first" deal. It's just common sense. It's much easier for hikers and bikers to yield to horses than the other way around.
Horses are prey animals. Bikes and the people on them seem to approach like predators, quickly and silently. Even the best-trained horses can spook, bolt, or jump sideways when they encounter bikers or hikers with big packs.
The results can be harmful to all. Think of a moose-vehicle collision. Now, take away the vehicle.
To avoid collisions and flared tempers, take these simple steps:
Download a pdf and share it with your local bike shop.
•    Announce yourself: Once you see horse and rider, let them know you're approaching as soon as you can. No yelling necessary, just a friendly "Hey, how are you?" will do.


•    Slow down or stop: Ask the rider if she'd like you to stop and step off or if slowing down and passing is okay.
•    Keep talking: Being friendly and communicative isn't just nice manners, it lets the horse know you are a person, not a predator.
•    Anticipate around corners: Avoid tearing around blind angles. There could be large, dangerous animals around the bend! If you can't slow down, make noise to alert possible trail riders.
•    Take the low road: If you're on a grade and are trying to move past a horse rider, take the downhill side.
Horse riders are not victims here. Nor are they guilt-free when it comes to trail conflict. Let's recognize our contributions to the problem:
Be a polite advocate. As we noticed in the comments on Adventure Journal, mountain bikers have plenty of stories of rude, entitled horse riders. Don't be one of them!
If it's been rainy, stay off trails where horses can do serious damage. It can take a long time to renew and repair trails that have been trashed when horses move up and down them in wet conditions.
Got a horse who's spooky around bikes? Practice. Expose your horse to bikes in a more predictable environment. Make it a positive experience.
Assume the worst. Don't put yourself or your horse in a position where things can go sideways. If you see or know of mountain bike presence, set yourself up for a safe encounter. If this means hustling off the trail, so be it.
Have fun sharing the trail!