Pretty excited about the Evidence-Based Horsemanship seminar May 4-6.
The seminar will give students an excellent opportunity to get immersed in the topic and absorb what is, in my mind, the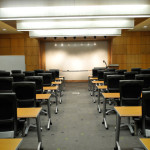 most helpful, most beneficial work being offered right now in the horse world.
Peters and Black will present EBH at The Hotel at Kirkwood Center and at a nearby private facility. Morning sessions will be classroom style, led by Dr. Peters in a conference room at this luxury hotel. Afternoon sessions will involve horse handling and be led by Black.
Getting here is super easy. Drive or fly to Cedar Rapids. The airport is four miles from the hotel. They'll pick you up.
Accommodations are fantastic and we've got a great rate at this Four Diamond hotel. Heck, even the ladies' room in the lobby is something to write home about. The hotel's Class Act restaurant is staffed by Kirkwood Community College hospitality students and the food is super fabulous.
Come.
I'll buy the coffee. We can talk about the interesting stuff horses do. You'll go home with a whole new toolbox of skills and knowledge.
Any questions, email me here.
Visit Evidence-Based Horsemanship for more details, to download seminar flyer and registration form.
Full Disclosure:
I helped Peters and Black with the manuscript and have written extensively on the topic for NickerNews. Read related articles here.  And, Peters is my significant other.