Editor's Note: Amy Skinner is a regular guest columnist and has been a horse gal since age six. She will present an arena demonstration with fellow trainer and rider, Katrin Silva, at the Best Horse Practices Summit.
She rides and teaches dressage and Western. Skinner has studied at the Royal Andalusian School of Equestrian Art in Spain, with Buck Brannaman, Leslie Desmond, Brent Graef, and many others.
Amy Skinner writes:
Every clinician I've ridden with and every teacher I've taken lessons from touts the mantra: It takes the time it takes.
Then why are our time constraints and demands still the horse's biggest enemies?
Years ago, it was generally accepted that training horses was a time-consuming event.  Ray Hunt said, "As time goes on, all the little things will fall into line.  We should be adjusting to fit the horse…You can't make it happen and you can't put a time limit on it…Sometimes the slower you go, the faster you learn."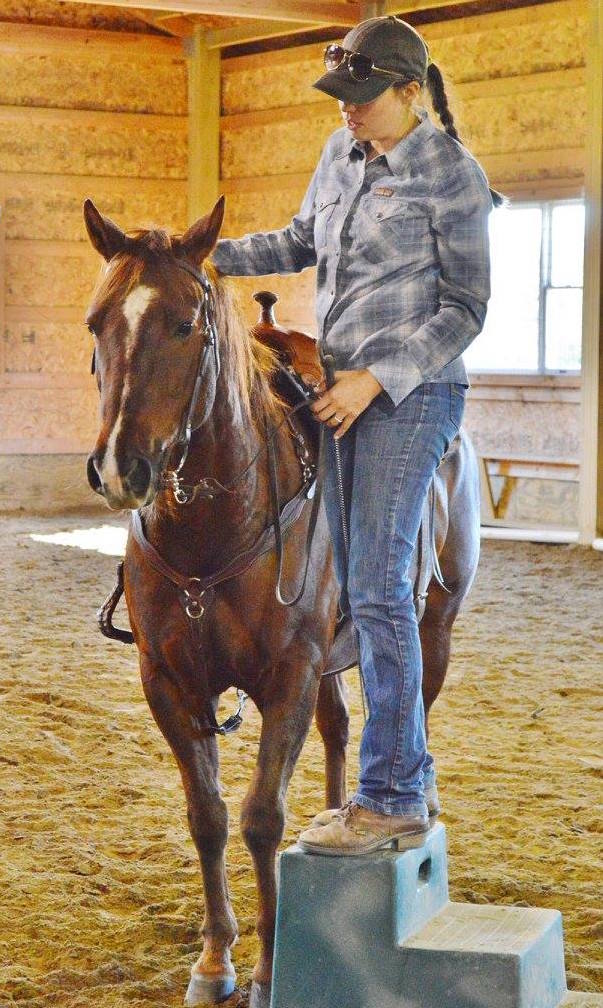 Now, too often there is a cheap, fast-food mentality to training horses.  Trainers say essentially, you bring me a horse and I'll produce a product, rather than I'll take time to develop an athlete.
Horsemanship should be fine cuisine, the kind that takes time to create before it's served.
 As a rider and trainer, I'm often presented with the dilemma of a client wanting a horse started or fixed (sometimes both) in 30 days. It's a common time frame for such a thing, but I wonder if it's really fair to the horse or the person to put a time limit on such an important and delicate event as the beginning or restart of a horse's riding life?
Years ago I had a filly.  I handled her gently from the day she was born.  She never had any formal training until she was two, I just handled her routinely in a way that worked for both of us as needed.  She was never scared and everything seemed to flow smoothly.
At two, I saddled her for the first time. It was uneventful because she was used to all kinds of feelings on her body and around her.
At three, I rode her a time or two, which was also uneventful because she knew me, trusted me, and wasn't afraid.
At four, I began riding her seriously and it was as if I had stepped onto an already-broke horse.  Of course, she wasn't educated yet. But she was willing and relaxed. By her second ride, we were down the trail and moving cows.
This filly's education was quite relaxed compared to the 30-day colt starts I've been asked to do.
Taking your time in this way increases their ability to relax, learn, and retain information.
After a year off, I returned my attention to the filly and she was not too far behind where I'd left her. Often horses that are pushed through a fast fix end up exploding for "no apparent reason" or suddenly backsliding dramatically.  Some of the horses I've seen go through training programs could one day be ridden, but the next barely touched.
Dr. Steve Peters and Maddy Butcher talked about this in a piece on the neurological low road and high roads of horse work:
Danger is a normal part of life, but after trauma, the world is experienced with a different nervous system…Every encounter or event may be contaminated by the past.
In neuro-anatomy terms:
The amygdala is the brain's smoke detector. It identifies whether or not incoming input is relevant to our survival. It does so quickly and automatically, with help of feedback from the hippocampus, a nearby structure that relates the new input to past experiences.
If the amygdala senses threat, it sends an immediate message to the hypothalamus and the autonomic nervous system to orchestrate a whole body response. It decides whether incoming information is a threat before we are consciously aware of the danger. By the time we realize what is happening, our body may already be on the move.
I can't help what happened in the past, but I can encourage new habits by the way I routinely, patiently encourage them to not hit the low road, ie, by reacting with fear or aggression.
Dr. Peters added:
When you think a horse is calm, it may actually be checked out. Its nervous system may be set at hyper-alert.
Two of my horses were originally training horses brought to me with pretty big issues. They were anxious. While they made progress, it seemed they still held quite a bit of tension.  Both were ultimately given to me because of the amount of time it'd take to turn them around.
The minute I dropped any imposed time constraint and started playing around, an amazing thing happened: they relaxed enough to learn.
They are both doing very well now, and I take things to them as I have time and as it works for them.
I'm not advocating that people send their horses to training indefinitely and spend all their money.  But I think if horses and people both are going to be successful, change need to happen:
Riders need to pair themselves well with their horses.
Trainers need to be honest in their assessment of horse-rider pairs.
The six-year old reactive mustang for the nervous rider is not a good fit. Taking such a horse like that under any time frame is unfair to the horse and the rider if the rider's ability and lifestyle doesn't match the horse's needs.
The horse's personality and breeding should fit the rider's needs. If you want a quiet horse to enjoy on the trail, and you pick a good fit, it will take less time, money, and will overall be a safer experience.
Another option is for riders to become more involved in the process.  If they become involved in the horse's education before, during, and after their training program, they can have success. If you have a young or troubled horse, and you can't afford months of training, and you don't want to pair yourself with a more suitable one, then you'll have your work cut out for you.
Be fair to yourself and to your horse: rise to the level of education your horse needs you to have.  This might mean riding lessons, working with your horse and trainer (aside from them training it), and spending some good time learning about your horse in general.
Good trainers don't create products on an assembly line.  Each horse is unique in its needs, experiences, and expected jobs.  Colt-starting competitions and wild horse makeovers give us the excitement of watching a young, green horse be gentled before our eyes. But to what end? Rushing the horses' education helps no one in the long term.
It's my opinion that we horse trainers carry the bulk of the burden in presenting a reasonable and fair expectation of what a horse can learn in a given amount of time. If we preach taking the time it takes, but then work horses in a tight schedule, then we either need to admit we are hypocrites, or drop the schedule and offer something truly beneficial to the horse.