There's a big hullaballoo over some recent Clinton Anderson comments on a promotional training video. In social media comments and in several online blogs, both his horsemanship and his recorded comments are called to task. We agree with some commenters' issues, like the concerns over hyperflexion and with asking such a young horse to train at this level. Research shows both elements are bad for the horse and have lasting negative effects. But we agree with Anderson when he cautions that nagging a horse with tiny reprimands builds
resentment. Scroll down for links.
You can say one thing about Anderson: he sure is sure.
Meryl Streep had something to say about being sure. She commented on a character she portrayed in The Manchurian Candidate:
"I loved being someone so certain. Because certainty is just so attractive. It's a completely bogus position because for me, I'm listening to every side. But it's so nice not to have to listen to all the different sides…It's a fabulous thing. Unfortunately, it leads to fanaticism."
Say it ain't so, Meryl. Confidence is sexy. Fans gravitate to confident "experts." But again, research shows us that certainty and arrogance don't allow for the necessary flow of new information. Leaders got lost in their own dogmatism. Read more about that here.
Sadly, you will find plenty of fanaticism in the horse world. And, despite Anderson's off-the-hip comments and weaknesses, plenty of his fans go to great lengths to defend him. At BestHorsePractices, we try to be fair, but sometimes there are simply not two equal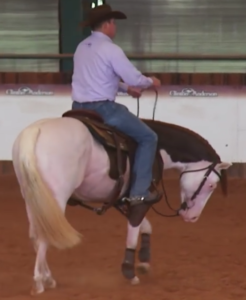 and logical sides of an argument. In this case, a confident leader falls short.
On a more general note, we value scrutiny and open-mindedness. We ask first and always: Is it good for the horse? When reviewing expert horsemen, we value what some call an "ideology of doubt." Is there another way? Can we assess the horse's well-being in a given situation?
Or, as Rene Descartes said some 400 years ago, "If you would be a real seeker after truth, you must at least once in your life doubt, as far as possible, all things."
Read this commentary of Clinton Anderson.
Read another blog on Anderson, Rollkur, and hyperflexion.
Read Anderson's goofy take on horse brains (once there, scroll down).