We love our readers and starting today, we're offering a great way for readers to access exclusive content and win big. Call it our Christmas in July!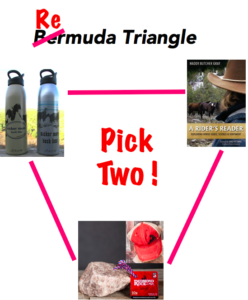 Starting today, when you subscribe to the Remuda Reader program, you can receive two of the following items with our compliments:
Redmond Equine's Rock on Rope and ball cap (made and mined in America)
Custom Liberty Bottle (made in America of recycled aluminum)
A Rider's Reader: Exploring Horse Sense, Science & Sentiment by Maddy Butcher
That's not all. One lucky Remuda Reader (new and current subscribers) will win a pair of Ariat boots (English or Western, valued up to $280) and a pair of Kimes Ranch Jeans (valued $99), made in America.
Check out the details and subscribe here.
Read review of Ariat Monaco Paddock Boot.
Read review of Ariat Vaquera Boot.