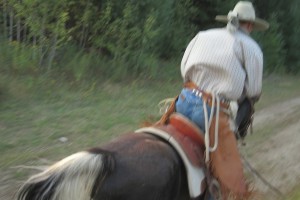 Dr. Sue McDonnell is the founding head of the Equine Behavior Program at the University of Pennsylvania and a certified Applied Animal Behaviorist. She's a big deal at a big university with a stellar reputation for producing equine vets.
So it was dismaying to read her recent post in the Behavior Q & A section of TheHorse.com.
McDonnell was asked about the prospects for rehabbing an ex-racehorse from his bolting tendencies. Her paraphrased response:
Bolting is a near-impossible habit to break and many trainers simply give up on horses "with this kind of behavior."
That said, it might help to develop a more trusting, positive relationship with the horse so that when he goes to bolt, he might stay with you instead.
I've only ever known of one horse that's overcome a bolting tendency. It was a miracle turnaround.
But in knowing the horse's instinctual needs and reviewing top clinicians, we know:
To bolt is to be a horse. Horses are prey animals and when they get scared, flight is their auto-response.
Horses NEED to have that 5th gear. They need to have a rider aboard who can let it move fast and not keep it constrained when it panics.
Solving the bolting issue has almost nothing to do with a warm and fuzzy relationship and has everything to do with training  – namely, lateral flexion and the one-rein stop.
In the opening clip of 7 Clinics with Buck Brannaman, the protégé of Ray Hunt talks about Rider Fear:
"Fear is a big thing that just owns some people. It can be overwhelming," he said.
But instead of giving up on their horses, Brannaman implores his students to work with them at full speed and to learn how to use flexion and the one-rein stop.
"You do need to get a horse to where you can open him up and go. You gotta have the right kind of footing. A horse is pretty incomplete if you can't just open him up and not have him lose his mind…
"I just practice dialing it up, dialing it back down, dialing it up, dialing it back down and getting them quiet again…I go like I've got a job. So he's not scared to move out…Set yourself up for success.
"You practice those things.  You need to know you can."
Video footage shows a woman working in a round pen. Her horse starts to panic. His spinning turns into racing and around the pen he goes. The woman never pulls on the reins but allows him to churn away. When he starts slowing, she strokes his neck. When he stops, she loves on him.
Photo at right shows Dr. Steve Peters working on lateral flexion with his horse, Jodi. By simply learning to bend up front as well as disengage her hind quarters with his gentle contact, Jodi will accept a one-rein stop later on as the training evolves.
Buck on flexion and the one-rein stop:
"In order for you to advance, you have to do this without a problem. This will be absolutely necessary for you to do…If you can't walk, trot, and canter and then stop with a one-rein stop, then you ought to practice every chance you get….It ought to be something that you would bet your life on."
You need the skill and confidence to NOT constrain a horse when it bolts or panics.
As Martin Black wrote in Evidence-Based Horsemanship:
"By pulling on the head, we make horses feel they can't get away which causes more panic. In some situations, horses may only need a short distance to feel safe but when [constraint] follows them, they continue their fight for freedom."
McDonnell was right when she told readers matters will only get worse when the rider feels afraid or insecure. But it's the fear, not the horse that they need to rein in and work on.
Do you have a horse who likes to bolt?
How often do you gallop with him?
How often do you let him move when something frightens him?
As one horse owner said: "A horse was never running off with me, as long as I was riding right along with it."
Knowledge and practice, in the form of one-rein stops, flexion and hind-quarter disengagement, will save the horse and the partnership.