2018 Best Horse Practices Summit presenter Amy Skinner is a frequent guest columnist for Cayuse Communications. Read more of her columns here.
Here, Skinner writes about the Cons of Cross Ties:
I recently sold a horse and delivered him to his new barn. I relayed the basic information of the four-year old gelding to his new owner: walk, trot, canter, trailers, clips so-so, etc. Basic four-year old stuff. I watched him get settled in, said my goodbyes, and was heading back to the truck, when she said, "oh by the way, I forgot to ask, and this is probably a dumb question – he cross ties right?"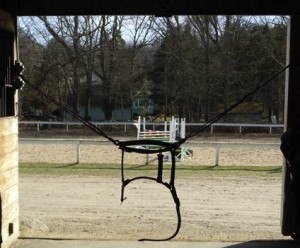 "Uh…not really. Never done it," I said.
"Um…so how do I tie him?"
She stared at me blankly for a second, and I explained I rarely tie my horses for tacking up and routine handling. I prefer to teach my horses to stand on their own accord as much as possible, though I do tie on some occasions and believe horses should know how to tie safely. But cross tying as an option is something that doesn't even cross my mind.
Read more about the Cons of Cross Ties.
What bothers me about cross tying is that it doesn't make horse sense. When simply tied, if the horse is educated to release himself off of pressure, he can learn to stand safely without pulling back and getting himself into trouble. He has enough space usually to figure out how to untrack his hindquarters and step forward.
With a cross tie set up, the horse has pressure on both sides of his face, nowhere to go forward without pressure, and nowhere to go backward without pressure. Depending on the cross ties and their length, sometimes just standing there in the center maintains a steady pressure on the horse's face (those clips are usually pretty heavy).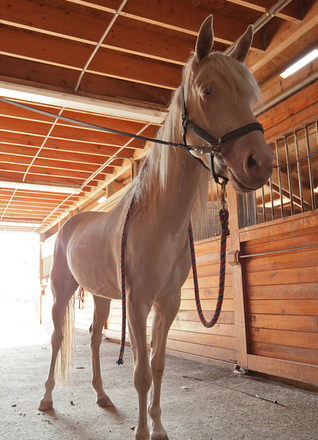 Horses understand and learn by seeking relief, either from pressure, pain, or some type of stress – and the cross ties don't provide a horse with a clear path toward this relief. There isn't a place where they can stand calmly with slack in the rope generally, and the potential for injury and panic is high.
If startled, upset, frustrated or antsy, the horse naturally wants to move. Imagine that something behind the horse startles or spooks him.
His instinct is to go forward, but in cross ties he is met with pressure from both sides of his face.
The only option for him to relieve this pressure is to go up, and depending on the footing (which in many barns is concrete).
His potential for slipping or flipping backwards is quite high. I've seen too many horses flip themselves over in cross ties to ever consider this a safe option in my book again.
If something startles him from in front of him, backwards into the cross ties can be just as dangerous. Even a horse who has become habituated to the cross ties and can stand there quietly learns to lean into this pressure, making him heavier on the lead rope, heavy on the bridle, and heavy in his mind. He's been dulled through repetitive lack of relief from pressure.
If your interest in cross ties is to keep your horse still and to prevent him from moving away from something he isn't interested in, like a saddle, a vaccine, or a trim, there are more meaningful ways to educate a horse to stand relaxed. Cross ties make a horse feel trapped, and if he really isn't interested in standing still he will find a way to move anyway.
If your goal is a relationship based on trust and communication, trapping your horse and forcing him to stand still is not a great way to achieve it. If I had to round up my students and force them to stay and listen in a lesson, it would probably reflect a bit about me and the way in which I present information to them. I hope they come because they're interested and stay because it helps them, not because they feel they have to. If a horse can be taught in a way he can understand, he'll often stand there on his own accord. Horses are generous that way.
In horsemanship, we seek lightness, and if your interest is working off a feel, cross ties can only muddy this goal. In dressage, jumping, and many western disciplines, we seek "forward, straight, and balanced." The cross ties take out the forward, by teaching the horse to lean into pressure and discourage a horse's forward movement.
Everything is closely tied together when working with horses, from the way he catches to the way he handles on the ground to how he rides. If a balanced, quiet ride is what you seek, then it starts here, on the ground, in all the tiny little details. If you can take the time to teach your horse to stand relaxed, you'll be amazed at the difference in your horse's demeanor in general.
Read more about the Cons of Cross Ties.