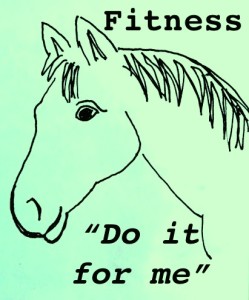 About this Fitness segment: BestHorsePractices is dedicating a entire section of this year's password-protected Remuda Reader pages to Rider Fitness. To subscribe, CLICK HERE.
Rider Fitness contributors:
Russ & Marsha Jones, accomplished riders from Wolverine, Michigan
Stay tuned for upcoming features from:
Beth Austin, renowned physical therapist
Christina Savitsky, founder of Buckaroo Balance
Editor's Note: Amy Skinner is a regular NickerNews and BestHorsePractices guest columnist and has been a horse gal since age six. She
runs Essence Horsemanship, rides and teaches English and Western. Skinner has studied at the Royal Andalusian School of Equestrian Art in Spain, with Buck Brannaman, Leslie Desmond, Brent Graef, Randy Rieman, and many others. She works with an array of clients in and around Boyne City, Michigan.
Amy Skinner, 5'7". 135 pounds
Skinner discovered yoga and core strengthening serendipitously through one of her clients, a yoga instructor. Together, they organized an al fresco type of class behind the barn. Students showed up in "poopy barn clothes," Skinner laughed.
The results, though, were serious.
"In five or six weeks, I was riding better, with better posture, and developing muscles for a better core and a better back," she said. "I had better elasticity."
Skinner continues, "so many people are weak and tight where they should be loose and strong. I've found it's also important to balance and use both sides of the body, as well as front and back. Cardiovascular workouts are important, too."
Skinner said rider weight is such a serious problem among her clientele that she has started giving class discounts to anyone who can substantiate their exercise regime. Overweight clients, she said, struggle to post and struggle to mount.
More thoughts from Skinner on core strength, balance, and flexibility:
Hip and back flexibility is essential for absorbing and staying with the horse's movements at the walk, trot, and canter.
If you don't have hip and back flexibility, you can't sink deep into your seat and will have to rely on your horse's mouth for balance.
Your tight hips will limit your horse's movement (Many "dull" horses are actually just being clamped by their riders.) and if your seat can't follow the horse's movements, you will inevitably bounce and jar your horse's back, causing him to tighten his back, which can be detrimental to its entire body.
Core and back strength is necessary for following the movements, maintaining good posture, and influencing the horse.  Many movements, both basic and advanced, rely on the rider's core and back.  The more the rider relies on core and back aids, the less he needs his legs and hands, which is better for the horse, and leads to refinement and looseness in the horse.