I just finished reading The Invention of Wings, by Sue Monk Kidd. The story takes place in South Carolina nearly 200 years ago, when the acquisition of knowledge for women and slaves was risky business. Books and educational resources were coveted treasures for Kidd's main characters.
Nowadays, we're awash in learning opportunities. Information flows like water from the Internet spigot. Our most important skill has become filtering the torrent.
As a life-long learner, here are some strategies I like to keep in mind.
Be wary of cognitive dissonance. That's when you rationalize old beliefs and behaviors in the face of new and contradictory information. —
Like not wearing a helmet when you know it could save you from a brain injury. — Like forcing your horse across a stream, when you know it's poor form.
Be wary of schools of thought, especially old ones.
Learning Theory and Behaviorism, which focus on stimulus and response, continue to be popular despite their inability to address what we now know about neuroscience and cognition. I talked with Frans de Waal, a renowned scientist at Emory University, about it. He explained:
"Behaviorism considered the animal mind a black box. All we needed was behavior. No mental states or emotions were needed…[It] has stifled many attempts to consider animal intelligence. It has denied animals an inner life. Or at least, took the position that their inner life was unimportant and could not be accessed by science…They had not counted on neuroscience, which does access the black box, and not on the new studies of cognition which indicate all sorts of mental processes and, of course, emotions in animals."
Read more about de Waal and animal intelligence here.
Don't let your faith get in the way of being a good learner.
Randy Rieman is one of the most devout Christians I've ever met. But he's just as committed to a life of learning and encourages students to "think outside the box in everything in life." He adds, "The more you realize that there's way more outside the box than there is in the box, then the more exciting it becomes to think outside the box." Read more about Rieman.
Talk to your Outer Circles.
My friend, David Sturt, wrote about outer circles in Great Work: How to Make a Difference People Love:
"We talk to the same five or ten trusted confidants, allies, and buddies about 80 percent of the time…Our outer circle simply means those people that we don't normally talk to …That's where we'll find divergent thinking, unexpected questions, novel ideas, differences of opinion, and added expertise," he adds.
Read more about it here.
Talking with outer circles stretches your comfort zone. As Rieman likes to say: "Your circle of comfort and your horse's circle of comfort – they must constantly expand, otherwise they will shrink." Read more about Comfort.
Consider the hierarchy of evidence.
Your favorite clinician doesn't always have the best answers, even if he/she is a smooth talker and looks good. Read more about levels of research here.
The most circulated items on social media are almost always fat on flash, thin on real science. Read about the Information Diet.
Have fun out there. As Ms. Frizzle would say, don't be afraid to make mistakes and get messy.
A curious sensation came over me when researching and writing about the Wobble Board of Learning:
I got a dopamine rush. I experienced the very phenomenon I was attempting to explain. It was like being dizzy while describing the sensation of being dizzy. Read about the science of positive training.
It took a while to figure it out, but here's what I know:
Animals, including us humans, can get jazzed by seeking answers and solving problems. But it takes time and nurturing.
Great parents, teachers and horse owners don't teach facts as much as they offer lessons in curiosity, observation and resourcefulness. When their children, students and horses receive positive feedback, cycles of learning to learn and loving to learn evolve.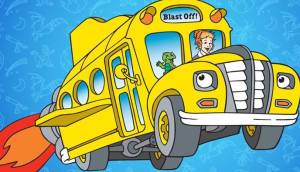 Do you remember the kids' TV show The Magic School Bus? Ms. Frizzle's best line was "Take chances. Make mistakes. Get messy."
Those kids got themselves in pickles and snafus alright. Yet to Ms. Frizzle, it was all a necessary and fruitful caper. All good since the kids were being curious (not scared) and sorting things out themselves. I'm learning how effective this attitude can be in horsemanship: When working on the Feeling Funny Pressure exercise with Jolene, I watched as the mule resisted her urge to spook and hunted for the release. I let her get messy and figure it out. The result? A shake of her head and lots of lip-licking! Read about it here.
Personally, my habits of research and reward (finding answers and writing about them) have been positively reinforced by editors' approval, reader feedback, and the simple satisfactions of discovery and articulation.
40 years ago, I suppose I got a dopamine rush when someone said, "Great answer! Good job!"
Now, the rush comes from the seeking. Even if the praise never comes, the process is still a blast.
Of all the expositions and conferences out there, the Alberta Horse Owners and Breeders Conference stands hands above all. It's a serious affair, run by the
Horse Industry Association of Alberta to strengthen their community  "through advocacy, education and research," according to its mission. The days are full of lengthy educational sessions and the venue is decidedly thin on trade booths. If you're interested in bling and silly ways to spend money on horses, stay home.
But if you like hearing about sound equine research and serious-minded, welfare-oriented advocacy, this weekend's for you. (Plus, the cold and dreary Red Deer conditions combined with paltry dining and entertainment options will only heighten your interest in conference sessions.) It annually draws at least 500 attendees from British Columbia, Alberta, Saskatchewan, Manitoba, Ontario, New Brunswick, and the Yukon, according to conference manager Robyn Moore.
I missed this year's event in Red Deer, but am happy to report on some highlights as provided by Moore:
Dr. Rebecca Gimenez presented "Emergency Preparedness on the Road and on the Trail." Always an excellent presenter, Gimenez discussed obstacles and measures to take before and during an equine emergency.
Bottom line: If you think it'll never happen to you, you're mistaken. Get educated. Educate those around you. Prepare.
Read more about Gimenez and TLAER here.
Dr. Sheryl King discussed stable management's impact on horse behavior. The President of the Horsemen's Council of Illinois and Professor Emeritus at Southern Illinois University Carbondale sent a clear message to those still keeping their horses in stalls: You're harming them.
Over six years, King and her students studied the effects of confinement (full and partial, during days and/or nights). Compared with horses given 24/7 pasture access. Stalled horses (even for part of the day or night) had increased incidence of digestive disorders, hoof and musculoskeletal problems, and development of stereotypies (like cribbing and weaving). All "damaging effects of too much care," she said. Read more about King's research here.
Bottom line: Less is More
Read more about how Less is More and how to make a healthier environment for your horse.
Dr. Steve Peters and Martin Black presented Evidence-Based Horsemanship to a full house. The scientist-cowboy collaboration continues to serve the community and open new windows of understanding related to management and riding. Black explained what many fans have given as feedback after reading the 2011 book: "Reading a horse isn't a new concept to me, but learning the science behind what I was seeing has given me access to better tools and a better understanding."
Check out their book and DVD here.
Read more about Evidence –Based Horsemanship here.
Read more about the Alberta Horse Breeders and Owners Conference here.